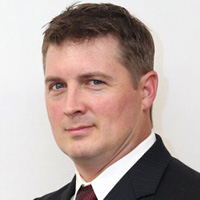 COO & CTO
Ben joined CES in January of 2012 following a 12-year real estate career in property management. He has performed many roles at CES, including Entry-Level Production Administrator, Director of Production Administration, Commercial and Residential Evaluator and Director of Evaluations.  He is currently the company's Chief Operation Officer & Chief Technology Officer .
In addition to internal technology sourcing and implementation, Ben is responsible for introducing, improving and expanding our client-serving platforms He has developed several industry-leading, proprietary software systems, including new advances that will greatly improve RIMS' interface capabilities at the client level. His in-depth familiarity with all aspects of CES' business enables him to provide a high degree of problem solving and solutions insight.
Ben graduated in 2000 from Hamline University in St. Paul Minnesota.  At Hamline, he earned a Bachelor of Arts degree in Psychology and was also on the University's Football and Track and Field teams. He began his career as an independent real estate consultant running his own firm, which was bought-out after founding. Ben's experience databasing huge amounts of property information for the owners of New York's World Trade Center led to his utilization as an expert witness post 9-11.
Ben has finished all required course to become a licensed appraiser trainee but remains unlicensed in order to continue working as an Evaluator for CES.
To contact Ben, call 678-580-6120, or email him at bkvamme@cesvaluations.com