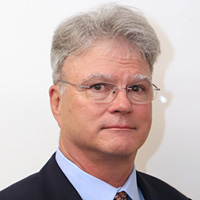 Founder, CEO & Chief Appraiser
Larry Woodall is the CEO of CES, which he founded in March of 2008. Larry is responsible for setting the overall direction and strategy for the company as the nation's premier "virtual appraisal department™." Since its beginning CES has become known as the paradigm for quality that Regional and Community Banks desire from their "most trusted real estate advisor."
Larry's vision for CES is simple; "provide our clients with the most cost-effective evaluation solutions possible, without compromise to quality, and ensure they are always operating in full compliance with regulatory requirements resulting in a safe and sound banking environment."
Larry has more than 33 years of experience in commercial real estate appraising, of which more than 28 years has been in Appraisal Review Management and Evaluation. Wrapped around this he has more than 37 years in Environmental Risk Management. With experience gained from past positions at regulatory and major financial institutions he is able to offer invaluable advice and guidance to his clients. At the institutions where he worked, ranging in size from $5B to $196B in assets, his titles included Senior Review Appraiser, Regional Chief Appraiser and Chief Appraiser. He's authored articles published in The RMA and ABA Journals and speaks to institutions on topics regarding Appraisal, Evaluation, Environmental Risk Management and Federal Banking regulations.
Larry graduated from Livingston University in 1979 with a Bachelor of Science degree in Health Science, Earth Science and Geology. After college, he worked for Schlumberger International as a Petroleum Engineer and Geologist in their MWD Research & Development Division, which provided him overseas experiences in Venezuela, Brazil and Jamaica. In 1985, he left Schlumberger to begin his new career as a Commercial Real Estate Appraiser.
Larry has successfully completed all Appraisal Institute courses required for the MAI designation, completed courses for the CCIM designation from the CCIM Institute, and completed more than 600 hours in Continuing Education as required for appraisal licensing. Larry's focus is commercial real estate and he is currently licensed as a Certified General commercial real estate appraiser in the following states: Georgia, New York, Pennsylvania, Texas, Virginia, Tennessee, North Carolina and Kentucky.
To contact Larry, call 678.580.6250 or email at lwoodall@cesvaluations.com